Cedar Creek Boxers of South Carolina
WE CURRENTLY HAVE NO PUPPIES AVAILABLE AT THIS TIME...IF INTERESTED IN UPDATES AND FUTURE LITTERS PLEASE SIGN OUR GUESTBOOK AT BOTTOM OF PAGE
WE ARE A SMALL BREEDER OF BOXERS ONLY LOCATED NEAR COLUMBIA, SOUTH CAROLINA. WE STARTED OUT WITH 2 BOXERS FOR OUR CHILDREN AND FAMILY .... AND FELL IN LOVE WITH THE BOXER BREED, NOW WE RAISE THEM! WE HAVE TWO FAMILY BOXERS THAT WE BREED AND WE HAVE ONLY TWO LITTERS A YEAR, SO WE ARE NOT A KENNEL OR PUPPY MILL. WE HAVE BEEN RAISING BOXERS FOR 6 YEARS AND WE SELECT OUR BOXERS CAREFULLY BECAUSE WE STRIVE TO HAVE TOP QUALITY BOXER PUPS. BOXERS HAVE GOOD TEMPERAMENTS AND ARE GREAT FAMILY PETS AND EASY TO TRAIN AND DISCIPLINE. WE SPEND QUALITY TIME WITH OUR PUPS SO THAT THEY ARE WELL SOCIALIZED WHEN THEY FIND THEIR NEW HOME. OUR PUPS ARE AS FOLLOWS:
AKC & CKC AFFILIATED FULL OR LIMITED REGISTRATION AVAILABLE
ALL PROCEDURES PERFORMED BY A LICENSED VET HEALTH GUARANTEE
TAILS DOCKED & DECLAWS REMOVED VET EXAM VET REFERENCE
UP TO DATE ON ALL VACCS & DEWORMED VET RECORD
PUPPY PACKAGE PARENTS ON SITE W/ PEDIGREE SHOW POTENTIAL
PRICES RANGE FROM $1200-$600 AND ARE SUBJECT TO CHANGE AND ARE BASED ON MARKINGS, SEX, DESIRABILITY, SIZE, PICK OF LITTER, ETC.
MICROCHIP & EAR CROP OWNER'S PREFERENCE AVAILABLE UPON REQUEST
VIP DELIVERY AVAILABLE UPON REQUEST- $150 CALL FOR FURTHER INFORMATION
PUPPIES ARE RAISED INDOORS, CRATE & POTTY TRAINED, PRE-SPOILED BY OUR CHILDREN, AND READY @ 8 WKS OF AGE TO GO TO THEIR NEW HOMES
$10/DAY BOARDING FEE IF CANNOT BE PICKED UP @ 8 WKS OR TO HOLD AFTER 8 WEEKS OF AGE.
A $250 NON-REFUNDABLE DEPOSIT IS REQUIRED TO RESERVE PUPPY.
WE DO NOT ACCEPT DEPOSITS UNTIL AFTER PUPPIES HAVE ARRIVED. ONCE LITTER IS HERE I EMAIL EVERYONE ABOUT THE LITTER ARRIVAL WHO HAS BEEN ADDED TO OUR PUPPY WAITING LIST, SIGNED OUR GUESTBOOK OR HAS CONTACTED ME . I ALLOW ONE WEEK TO RECIEVE DEPOSIT IN WHICH PUP IS LISTED AS 'PENDING', ONCE DEPOSIT IS RECIEVED OR IF PUP IS PAID IN FULL IT IS LISTED AS 'SOLD'. WE ACCEPT CASH ONLY..CALL FOR FURTHER DETAILS. PLEASE CONTACT US WITH ANY QUESTIONS OR IF INTERESTED @ jet.wrecker@yahoo.com or call 803-348-7315 8AM-8PM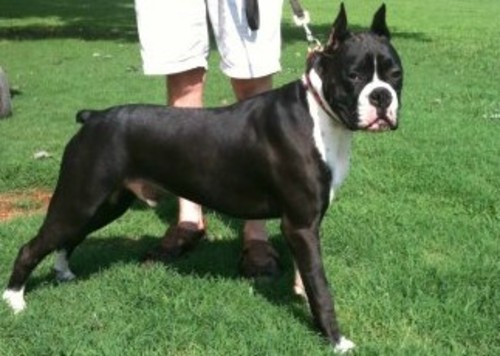 JET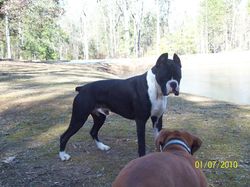 THIS IS OUR SIRE JET WRECKER. HE IS CKC REGISTERED PURE BRED SEALED BRINDLE BOXER. HE IS TWO YEARS OLD. HE WEIGHS AROUND 75LBS. HE HAS GREAT STRUCTURE, BIG BLOCK HEAD AND BROAD CHEST. AND A BOXER WHO LOVES WATER!!! CURRENTLY AVAILABLE FOR STUD-CALL FOR TERMS AND PRICING.
JET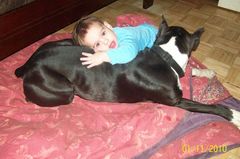 HERE IS MY LITTLE ONE GIVING A LITTLE LOVIN' TO JET. BOXERS ARE KNOWN TO BE GREAT WITH CHILDREN. OUR CHILDREN ARE INVOLVED WITH THE PUPS AS EARLY AS WHEN THEY ARE BORN! WE STRIVE TO RAISE OUR PUPS TO BE TEMPERAMENTAL AND RESPECTFUL TOWARD OUR CHILDREN.
JET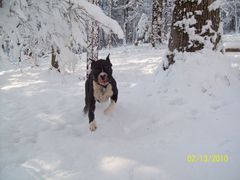 JET PLAYING IN THE SNOW!!!
JET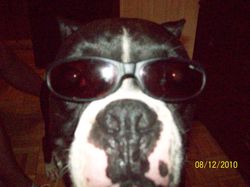 He loves the spotlight! He loves to Tweet! Follow him on Twitter.com as JetTheBoxer.
THANKS FOR YOUR INTEREST. PLEASE TAKE A MOMENT TO SIGN OUR GUESTBOOK IF YOU HAVE A FUTURE INTEREST OR COMMENTS

Quality Web Site
Boxer Breeder

Quality Boxer Calendars and Boxer Puppies

Only given to
Cool K9 Websites!

OUR NEW ADDITION *JAZZY JEANNIE*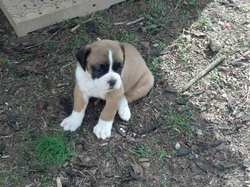 HERE IS OUR NEW ADDITION TO OUR FAMILY JAZZY JEANNIE. SHE IS A FLASHY FAWN FULL BLOODED BOXER. THIS IS A PIC OF HER AROUND 6 WKS OLD.

JEANNIE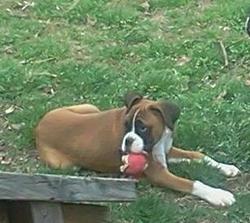 JEANNIE IS AKC/CKC REGISTERED FULL BLOODED BOXER. SHE IS 6 MONTHS IN THIS PIC.

JEANNIE & JET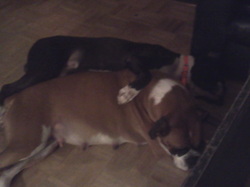 JET 5yrs & JEANNIE 2yrs
JAZZY JEANNIE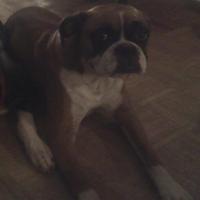 JUMPIN JET